Sympathies and Priorities.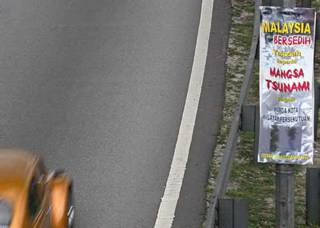 When you are driving along some of the main roads in town these days you'll see all these banners/buntings hanging on to some thing. They'd be promoting, announcing or advertising something or other. Well and good, information dissemination. The other day, on one of the main thoroughfare in the Klang Valley, you could not miss the banners/bunting on the light poles in the middle of the road.
Each light pole will have two banners to face both traffic flows, making sure that motorists gets to read the messages on it.
There must be lots of them; it is a long thoroughfare.
The banners/bunting were proclaiming that how we Malaysians are grieving and sympathizing with the recent TSUNAMI victims, worldwide and as well the ones in Malaysia.
All and good, you show that you are concern and caring, the grieving and sympathizing, the feeling for the people bit, nice touch...
Each of them banner must have cost a little something in monetary terms. Multiply that with the number of banners on those light poles, which will definitely amount to a lot of monetary figures. Wouldn't the TSUNAMI disaster victims benefited more, had that money meant for them banners on the light pole, were to be channeled to the actual victims themselves instead?
Yeah, I'm floored...and I feel numb too...